Proforma Achieves Record $40 Million Sales Month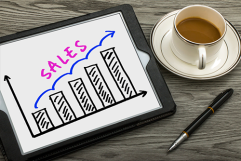 Proforma is excited to announce a record breaking $40 million sales month in October 2014. This is the highest sales month in company history, with net sales up $4 million over October of last year. The company's overall sales are up 13% compared to 2013.
"Our focus is on helping our Owners earn new business through winning enterprise level accounts, adding experienced Sales Representatives to their teams and pursuing acquisitions," said Greg Muzzillo, Founder of Proforma. "We are committed to helping every member of the Proforma Family achieve their dreams by putting them in the best situation to win new opportunities. Right now we have more than $900 million in opportunities in our active pipeline that we are working with our Owners and Sales Reps to close.
"Proforma's Mergers and Acquisitions Team has played a significant role in propelling the company's sales this year by helping Owners close more than $12 million in acquisitions. The Global Major Accounts Team has also closed 14 enterprise level accounts worth more than $1 million each, involving eCommerce, comprehensive print and promotional programs, multimedia marketing solutions and more, and eight Proforma Owners have hired Sales Representatives who brought books of business worth more than $1 million each to Proforma.
"In just two years we've been able to nearly double our sales by embracing all the resources available to us through Proforma," said Mike Durkee, Co-Owner of Proforma Durkee in Huntersville, NC and one of the newest members of Proforma's Million Dollar Club. "For the first time we are able to position ourselves as truly one source with infinite resources for our clients. We are taking on projects involving websites, videos, mobile apps, complex packaging and more that we wouldn't have touched in the past without Proforma. Now we have the confidence and the resources to win major accounts.
"By the end of October Proforma had reached a record number of Million Dollar Club Members and also welcomed first time Five Million Dollar Club and Ten Million Dollar Club Members. Proforma's continued growth this year has resulted in 15 Owners qualifying for Inc. magazine's prestigious list of the 5,000 fastest growing private businesses in America.
Proforma is a $450 million industry leader offering each Proforma member a full suite of tools including access to award winning marketing campaigns, a newly enhanced technology platform, financial backing, free credit insurance, the buying clout that increases their profits up to 5% - 15% with a proven vendor network and more.
For more information about Proforma, please visit www.onlyproforma.com.
About Proforma
With over 30 years of experience, Proforma remains clearly focused on providing solutions to businesses worldwide for their graphic communications needs. A leading provider of promotional products, printing services, business documents, and eCommerce solutions, Proforma has received numerous awards and is recognized as one of the top five largest companies in our industry. Proforma serves over 50,000 clients through more than 750 member offices across the globe. The Proforma Worldwide Support Center is located in Cleveland, Ohio. www.proforma.com.
# # #
For more information, contact:
Kendra Smith, Manager of Public Relations, 216-520-8400 ext. 3406