PROFORMA CONNECTS OWNERS WITH SUPPLIER PARTNERS IN COLLABORATIVE ENERGIZE SUMMIT
Event provides invaluable solutions and ideas for Proforma Owners.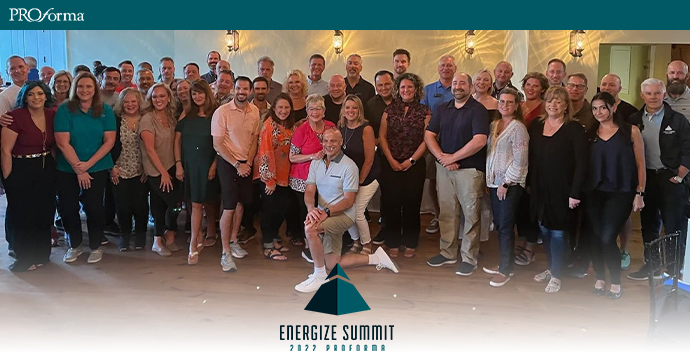 Owners, Suppliers, and Support Center Staff Gather Together at the Energize Summit
Proforma, the $500 million technology and business success leader, recently hosted its 2022 annual Energize Summit in Savannah, Georgia. Owners had the opportunity to participate in 1-on-1 strategic planning sessions with their Supplier Partners, creating long-lasting relationships to help them achieve record sales in 2023 and beyond.
"The Energize Summit provides a great opportunity for fresh, new ideas to flow between our Proforma Owners and Supplier Network," said Michelle Dalton, VP of Strategic Partner Development. "Our Owners left the Summit with a renewed sense of energy and eagerness to bolster their sales in the upcoming year."
The Summit connected Proforma's premier Suppliers with Owners in the Proforma Network and provided a forum for the Suppliers to present new, creative, and innovative solutions. This exclusive event opens the line of communication through engagement in strategically-guided conversations about specific clients, projects, prospects, and opportunities.
"The Energize Summit allows us to directly communicate with Owners in a mutually beneficial way," Nick Lateur from HPG Brands said. "We look forward to seeing the positive results of these meaningful conversations as our relationship with these Owners continues to blossom."