PROFORMA GIVES BACK TO THE CHILDREN OF CLEVELAND
Proforma and its employees support kids in need through local nonprofit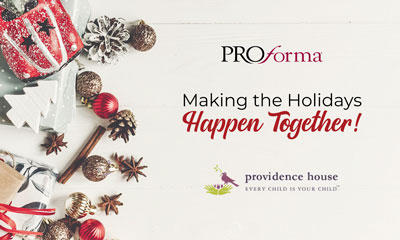 Making the Holidays Happen
Proforma, the $500 million Technology and Business Success leader, partnered with Providence House to support the local community this holiday season. The company and its employees came together this month to gift children in need, items from Amazon Wish Lists curated by the nonprofit.
Providence House is Ohio's first and longest-operating crisis nursery serving children and newborns who are living through crisis situations. Their mission is to support children and their families through crisis to end child abuse and neglect.
"We are thrilled to be a part of a worthy cause like Providence House," VP of Finance Jeff Myers said. "Proforma and its employees take great pride in helping to support the kids in need within our local community.
Proforma and its employees identify organizations to partner with each year during the holiday season. Prior partnerships involved the Buster Brown Foundation, the Angel's Place Foundation, and the Christ Child House along with local shelters for battered women and children.
"The holidays are a time for reflection and gratitude," added Kathy Mayo, Director of HR. "Proforma is committed to giving back to the community and making a positive difference whenever possible. Providence House protects our city's most vulnerable citizens and children, and we are proud to be a part of that."