PROFORMA CTO BRIAN CAROTHERS NAMED PROMOSTANDARDS DISTRIBUTOR PERSON OF THE YEAR
Brian Carothers Honored for Technology Leadership and Innovation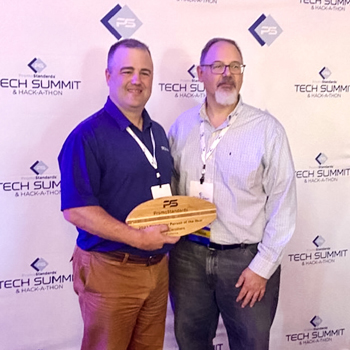 Proforma Continues to Grow with $600 Million in Sales
Brian Carothers, Proforma's Chief Technology Officer, was awarded the PromoStandards Distributor Person of the Year at the Annual Tech Summit and Hack-a-Thon hosted in Tampa, Florida. This award is one of the inaugural PromoStandards Persons of the Year Awards for the Promotional Products Industry.
PromoStandards is a community of suppliers, distributors, and service providers in the promotional products industry that are committed to standardizing and enabling the quick flow of information to reduce transactional friction while promoting effective strategy execution.
"I'm incredibly proud of Brian Carothers' contribution to the industry," stated Proforma CEO, Vera Muzzillo. "He continues to raise the bar for high-level workflow automation, seamless integration, and improved efficiency."
Brian Carothers received this award as a result of his ongoing technology leadership in the industry and the PromoStandards community. He was specifically recognized for actively championing the development and implementation of standards, substantially contributing to automation in the order process, successfully identifying and solving complex problems, and generously hosting numerous PromoStandards events.
"Proforma understands that PromoStandards is the future of integration for our industry and is proud to collaborate with suppliers, distributors, and service providers for the benefit of the entire promotional products community," explained Brian Carothers, Proforma CTO. "I humbly accept this award on behalf of the Proforma leadership and technology team."